On another group I'm a member of have adviced that if our Motorhome is over 3500kg then you will be required to display these stickers warning cyclist of blind spots. Apparently they tried to get camping cars exempt, but as things stand you will be required to have them displayed, failure to do so could land you a €135.00 fine. The blurb is below, does anyone know of this information is accurate or is it more scaremongering going around.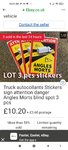 From January 1, 2021, the regulations change and the signaling of blind spots on heavy vehicles becomes mandatory. This new standard is governed by Decree n ° 2020-1396 of 17 November 2020 relating to signage materializing blind spots on vehicles whose total authorized weight exceeds 3.5 tonnes.
All heavy vehicles (truck and bus) must therefore display an adhesive sticker with a dimension of 17x25cm on both sides and at the rear of the vehicle.