I had thought to post this in the Wild Camp a Month, but it doesn't really qualify...
Here I am with Oscar (I'm behind the camera of course).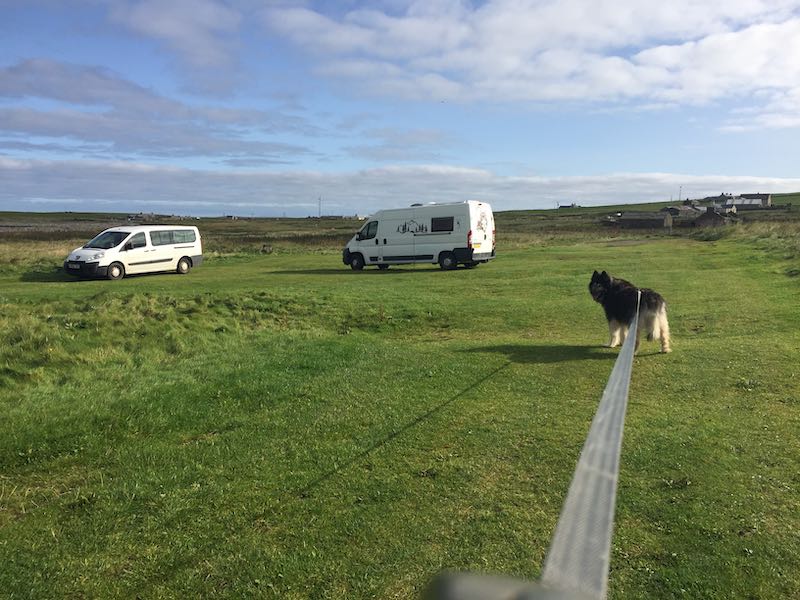 It was a very short trip, like about 300m (if you have very bright little eyes, our house is to the left of the van with a wind turbine). This spot is what locals call the "kelp green" and is on the Location App.
It is a popular spot for locals to walk their dogs and the Peugeot mini bus belongs to another resident parked up and walking their dog, so no other campers here today.
The story...
Oscar is such a Jessie, he the biggest dog we have ever had and the windiest. Any unusual noise (bird scarers, trains, people hammering etc.) and he's head down, u-turn and towing me back to the home. Fortunately he obviously views the van as home too, because if it happens when we're away, it is the same process except back to the van!
This week there must be some or other noise over the banks in front of our house (maybe pebbles/rocks rumbling with the sea) and I typically haven't even made it down the full length of the drive before it's a quick u-turn and back home!
Then I had a brain wave. "Come on Oscar, we're going on a little holibob!" Into the van no problem. Drive down the road to the corner, onto the Kelp green and out he jumps, "wow, we're going for a walk". Walked the full circuit of the Kelp Green, maybe 1/2-3/4 of a mile and back to the van, no problem.
Back into the van and home.
What a scaredy cat dog we have.
The thing is at home he barks at anyone walking past our house and to look at him stood on his hind legs against the fence people could be forgiven for thinking he's a ferocious guard dog and it would be best to stay away.