Well I got my copy of the camping and caravan clubs magazine this morning, and the steam is still coming out of my ears. Do these people not realise that a large proportion of their members own campers and motorhomes, and most of them "wild camp". Scott Currie claims to own a campervan, yet places tuggers and us in the same boat. Not what I would have expected from someone with knowledge of our chosen pastime. I have written to the club, Informing them that I am seriously considering leaving them, and I am serious. I know they have a bias even a dislike of us, I am not niave. But I wrongly assumed that both sides simply ignored this for each other's betterment. But for me this totally biased letter has crossed a line. I am not stating that what Scott Currie reports does not happen, but his comments clearly infer that we are all alike. Also his patronising insulting comment that he hoped no members would do this just made matters worse.
Heres my reply, I doubt if they will publish it, they don't want the dark side to be heard do they now.
I wish to complain about the letter you published in your June magazine, from Scott Currie regarding wild camping.
His comments were disgraceful and an insult to the vast majority of us who enjoy wild camping in locations were there are no campsites or other forms of accommodation. I have never dumped rubbish anywhere in my life, nor emptied a chemical toilet anywhere other than in the appropriate place. As for parking in front of anyone's home, I simply would not be interested in doing so, and I think I speak for the vast majority of our community. This letter may cost you members, myself included. I am furious with you for publishing it, and so are many others.
I bought a Motorhome to enjoy the freedom it offers. I also have enjoyed campsites run by yourselves, the caravan and Motorhome club who I am also a member of, and many independent campsites.
I feel you owe myself and many others an apology for publishing this insulting, narrow minded, ill informed letter, written by someone who does not seem to know the difference between a Motorhome and a caravan.

If I don't receive an apology I and many others on various forums will seriously consider leaving your organisation, and that would be a shame.

Times are changing many campsites now cater for more or as many Motorhomes than caravans, and like it or not most of these Motorhomers enjoy responsible and considerate wild camping, not Scott Curries version of wild camping.

I would be pleased if you published this letter, but somehow I don't reckon you want the other side of the story to be told. As for recommending that we always stay in campsites, I think I know why you would recommend that, hence your obvious bias in printing such a letter in the first place.

Yours sincerely
And here's the letter.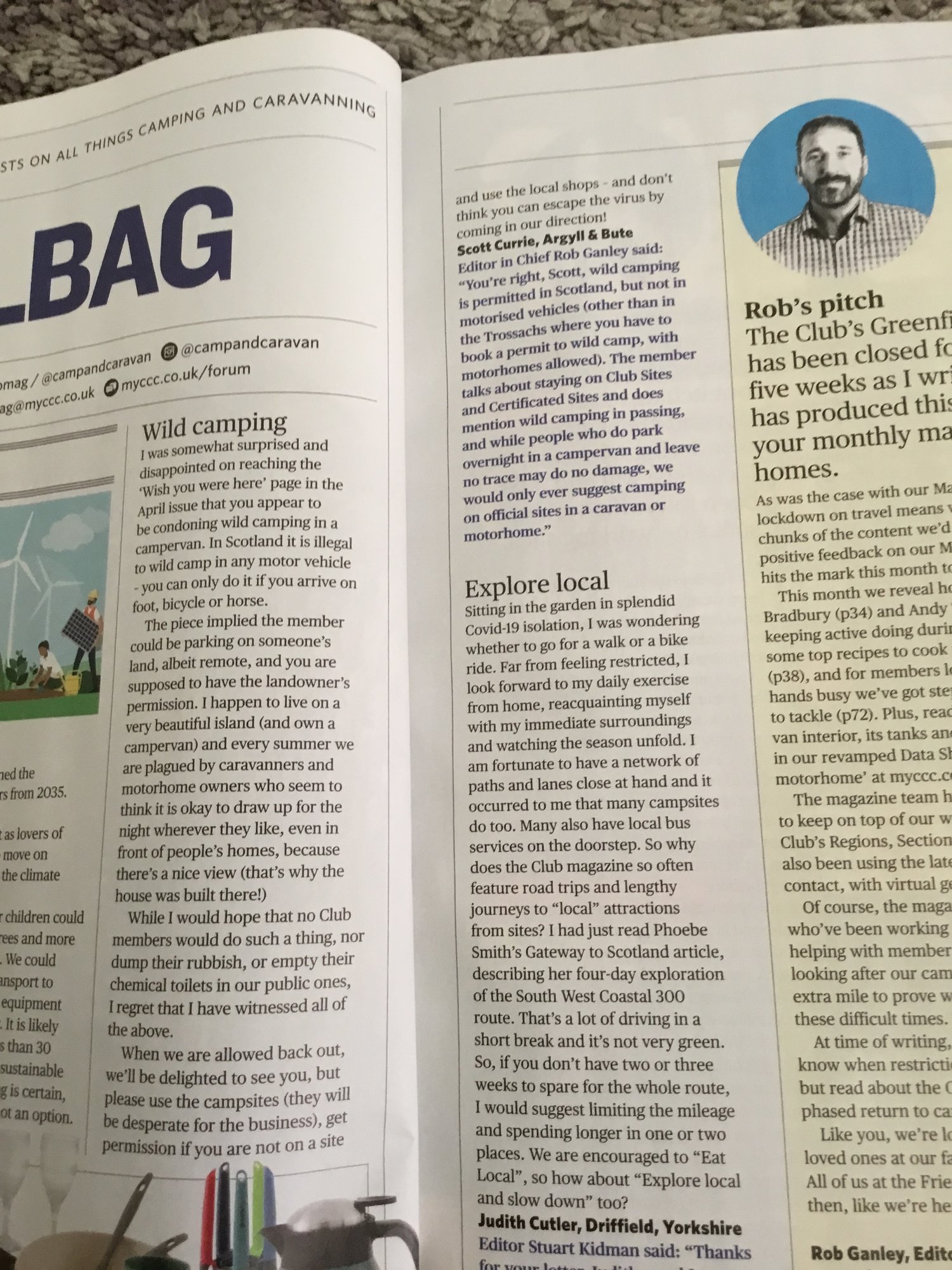 Last edited: